Post Cards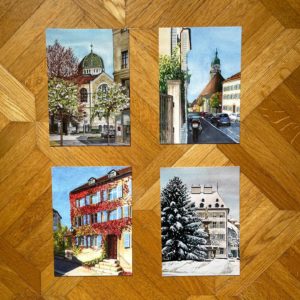 4 Seasons of La Chaux-de-Fonds, Fr 5.- each, Fr 15.- for the set of 4.
Includes:
Spring view of the Synagogue
Summer view of the Grand Temple
Autumn Ivy (Rue du Pont)
Winter view of the Town Fountain

To order, please use the Contact form or email rebeccatinguely@gmail.com
Payment by Papal or Bank Transfer
Postage Fr 0.85 for Switzerland, Fr 1.- overseas.
Commissions and Sales
Commissions are available on request, depending on the scale and timeframe of your project. Many works listed in the gallery are available. Please get in touch for more details.